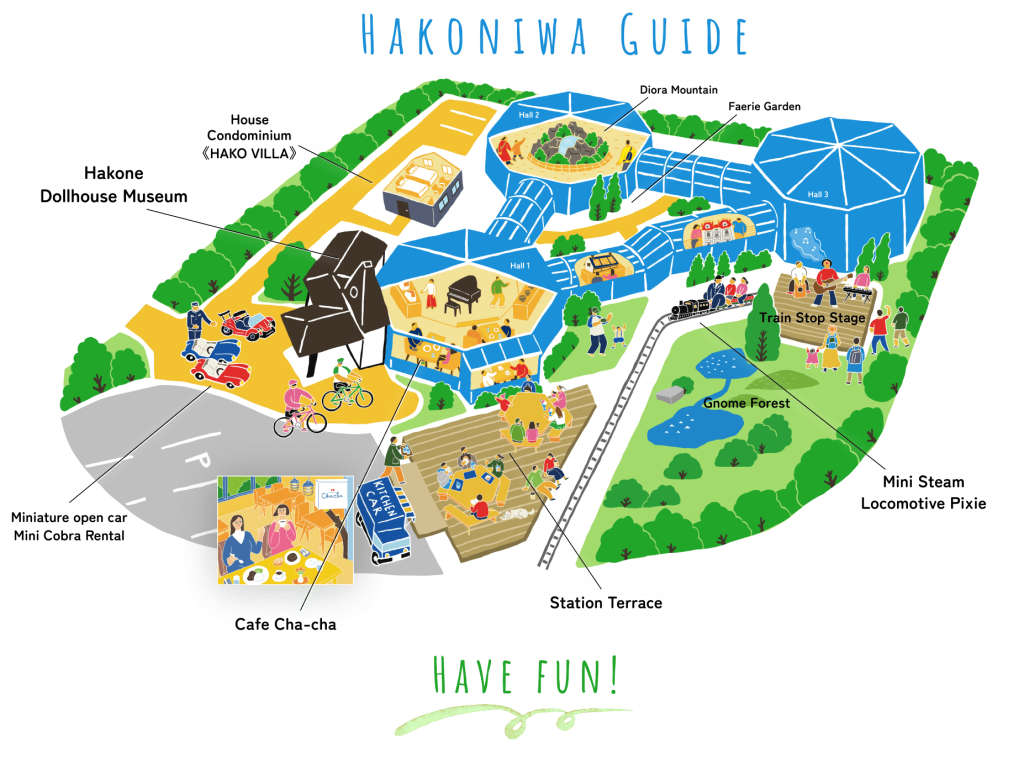 A source of fond memories.
One day, many happy things gathered in the garden of Hakone, and with a 'poof', they cast magic upon it. Now, Hakone becomes more and more fun with each new season.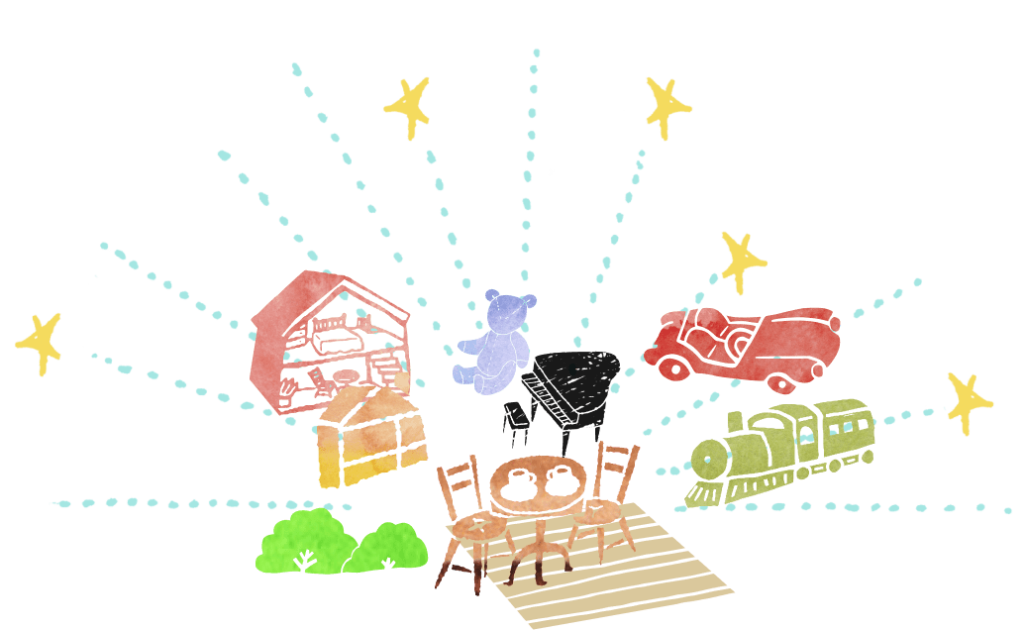 Hakoniwa is in the historic Ashinoyu area. It includes the Hakone Dollhouse Museum, known for its many antique doll's houses. There are classic mini open cars available to rent, the mini Locomotive 'Pixie' to ride, and a wooden deck area where you can sit and enjoy the fresh air of Hakone. Surrounded by so many fun and exciting things, its like being in a giant toybox! Also, the house condominium 'Hako Villa', is available to reserve, letting you relax and stay the night. Come with the family, awaken your children's sense of wonder, and refresh the child's heart in yourself. Experience and enjoy Hakone, and fill a page of you scrapbook with memories of your time here.

Highlights of HAKONIWA
If you come to Japan, let's go to Ashinoyu.
Here you can experience both Hakone's past and present. Visit Tokoankumanogongen, where poets and artists used to gather. See the Rokudo Jizo and Sekibutsusekito stone buddhist statues on the path by Shojingae-ike pond. And enjoy hiking and biking in Hakone's beautiful outdoors. Each season brings it own changes to Hakone Ashinoyu for you to enjoy.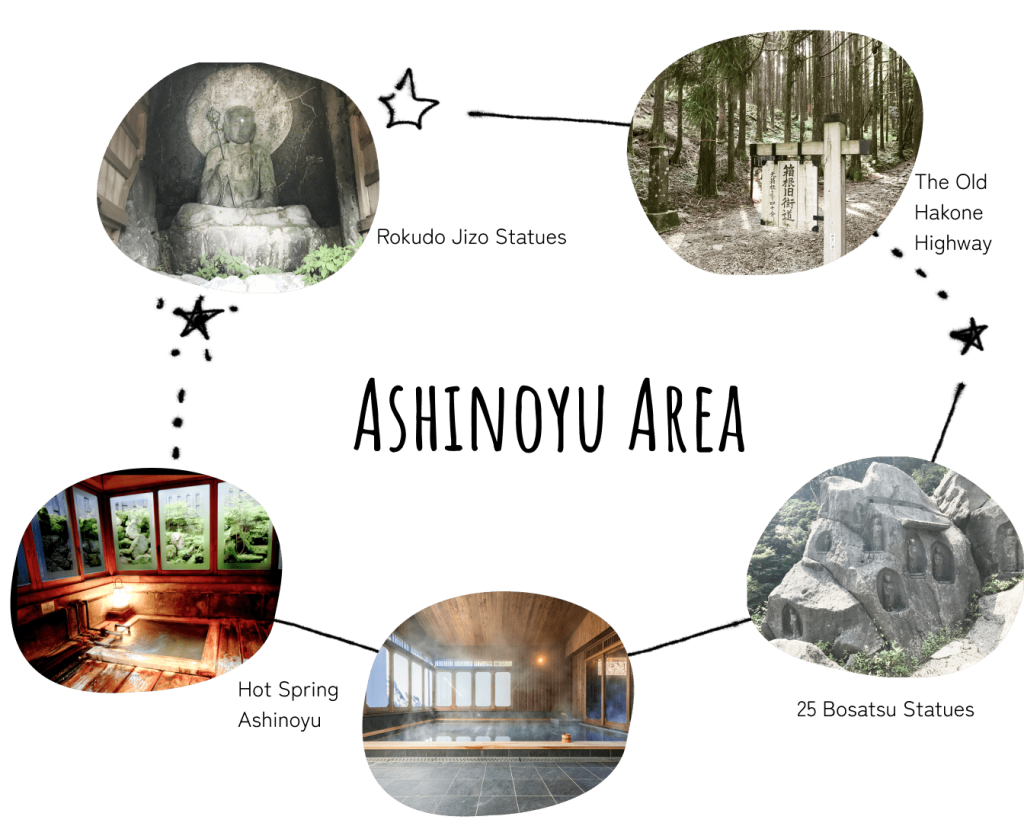 How to Access
〒250-0523 84-55 Ashinoyu, Hakone-machi, Ashigara-Shimo-gun, Kanagawa, Japan
TEL 0460-85-1321 / 0460-85-1322(FAX)
By train/bus: From JR Odawara station or Hakone Yumoto Station, take a bus bound for Motohakone, and get off at Ashinoyu. The bus stops in front of the museum.
By car: Get off Tomei Expressway at Tomei-Atsugi IC(exit) to get on Odawara-Atsugi Road – Route 1, or via Hakone-Shindo to Ashinoko-Daikan IC(exit) or via Tomei-Gotemba IC(exit) – Sengokubara to Ashinoko, 5-minute driving.
Parking Capacity: 45 (large buses available)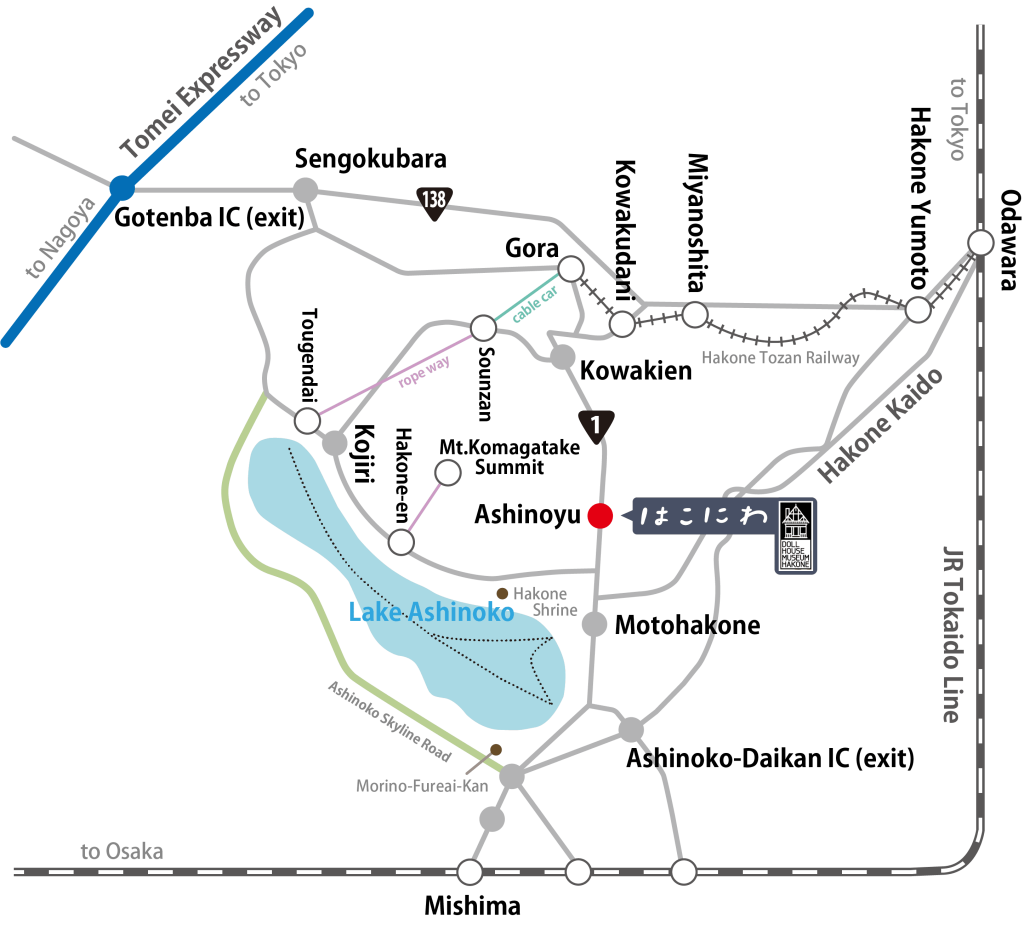 Entrance Guide
Closed 17:30(Apr~Oct)
    17:00(Nov~Mar)
    *Last entry 30 minutes before
Regular holiday: Tuesday (Open on public holidays) *Open all day in Aug.
Number of seats: 45/Terrace seats:30
Parking lot: 45 (Free for facility users)
*Large buses available
*Closed every year-end and New Year's holidays (Dec. 31~Jan. 3)
*Temporary closure due to exhibition changes
Facility name: Hakoniwa / Doll House Museum Hakone
Hakoniwa Admission (Doll House Museum Hakone Admission <tax included>)
Adult: ¥ 1,800
Student (Junior high school and up): ¥ 1,500
Children (Elementary school): ¥ 1,200 *Children under elementary school age is free
*All Hakoniwa facilities available
(Includes admission to Doll House Museum Hakone and SL train fare.)
*Group (party of 15 and over): Adult ¥ 1,500 Student (junior high school and up) ¥ 1,200 Children ¥ 900
*Handicapped person (and a care provider): 50% off
Other Information
Hakone Mini Locomotive (SL Pixie) Ride Fare <tax included>
Adult: ¥ 300 Elementary school students and under: ¥ 100 (*Price per round trip)
*Free with Hakoniwa admission ticket
Minicar Rental Fee <tax included>
(1) MINI COBRA RED (AT / 1 seat)
(2) MINI COBRA BLUE (AT / 1 seat)
(3) 3-wheeled sports car 1it (MT / 2 seater)
[2 hour plan]: ¥ 6,500 (1 car) / ¥ 12,000 (2 cars)
[5 hour plan]: ¥ 15,000 (1 car) / ¥ 28,000 (2 cars)
*Return time until 17:00 *Separate insurance fee (¥ 500 / 1 car) +Fuel cost (2 hour plan: +¥ 1,000 , 5 hour plan: +¥ 2,000)

HAKO VILLA Accommodation Fee <tax included>
*Whole house rental Limited Time Open Special Price
 Saturdays, Sundays, holidays: ¥ 75,000~ / Weekday: ¥ 52,000~
 Click here for plan details and reservations
*Includes Hakoniwa tickets for 2 people (Valid for the duration of the stay)